About
Business partner data have to be correct e.g. invoicing, authority tax reporting, or compliance checks. It's not possible to keep the best quality and updated database doing it manually. There are a lot of official data sources and some of them are restricted. Companies partners change their address, legal forms, etc., which cause many issues and make the keeping big business partner database of good quality almost impossible. The solution to this problem is to join the CDQ and use our Data Curation API.
DC API has many options to enable quick, simple, or complex curation of your data. There is also a possibility to choose, which elements should be improved and harmonized for the defined purpose. The final result of the curation process is the report containing all information about business partner data inputs, execution status, and outputs.
Tutorials & Instructions
Authorization
Before trying CDQ APIs user must be authenticated:
Paste the API Key in the console's security bar into the X-API-KEY field.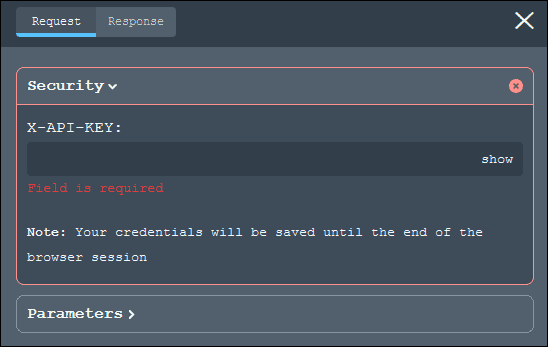 After pasting the API Key the green padlock will appear.

Be careful

Green padlock doesn't mean that the API Key was pasted correctly.
Check your API key for missing characters or extra space before trying.
No API Key?
Check how to get one on authentication page
Follow the steps above.