About
SAP ODM API
The SAP ODM API at CDQ serves as a pivotal bridge in the landscape of APIs provided by CDQ, specifically designed to enhance the integration experience with SAP services adhering to SAP ODM standards. Unlike other APIs within CDQ that may offer additional content perspectives, the primary purpose of the SAP ODM API lies in its ability to seamlessly deliver content already available through other APIs in a format that is comprehensible to SAP services operating under SAP ODM compliance.
To elucidate this concept further, consider the following example: The endpoint URL https://api.cdq.com/sap-odm/v2/referencedata/rest/v3/businesspartners/lookup corresponds to the underlying endpoint referencedata/rest/v3/businesspartners/lookup. In essence, the SAP ODM API operates as a transformation "proxy" for this underlying API. It does not inject additional business content but serves as an intermediary layer, ensuring that the data exchanged aligns with the SAP ODM standard.
Tutorials & Instructions
Authorization
Before trying CDQ APIs user must be authenticated:
Paste the API Key in the console's security bar into the X-API-KEY field.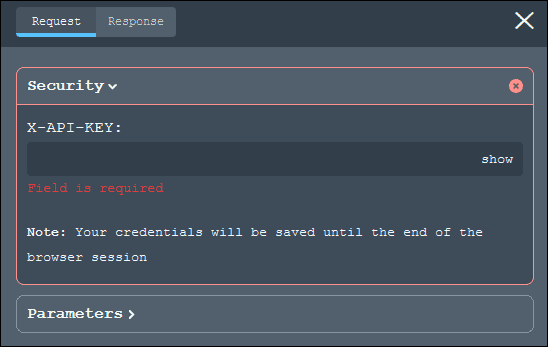 After pasting the API Key the green padlock will appear.

Be careful

Green padlock doesn't mean that the API Key was pasted correctly.
Check your API key for missing characters or extra space before trying.
No API Key?
Check how to get one on authentication page
Follow the steps above.